Crossed into new mexico just after sunrise this morning.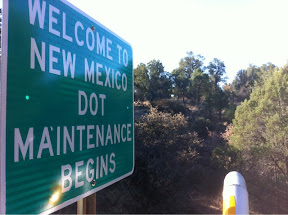 It was a brutal climb up the pass from Arizona-- 6,250 feet straight up, there were definitely moments when I wondered why the hell I decided to do this-- but the views were incredible.
I'm going to be posting some real photos (as in not just from my phone) whenever I next take a rest day, and I'm excited to share some of the shots I've managed to get. I decided to bring my good art documenting camera in spite of its extra weight and bulk, so I've been trying to do some real photo taking to justify carrying it...
Want to help support my trip? Buy prints of my paintings-- www.etsy.com/shop/growmeaboat
Location:N F St,Silver City,United States